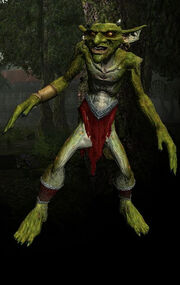 other resources
none applicable
They can vary widely in appearance, but these spindly creatures tend to run roughly four feet in height and are highly tribal in behavior. Greenish to yellow-brown in color, they are often clothed in tattered rags and can be extremely mean-spirited. Most will attack anyone, even each other. Their order of evil depends on their type. Several types and tribes of goblins exist. 
Subcategories
This category has the following 20 subcategories, out of 20 total.
Pages in category "Goblin"
The following 200 pages are in this category, out of 511 total.
A

B

C

C cont.

D

E

F

G

G cont.
Ad blocker interference detected!
Wikia is a free-to-use site that makes money from advertising. We have a modified experience for viewers using ad blockers

Wikia is not accessible if you've made further modifications. Remove the custom ad blocker rule(s) and the page will load as expected.