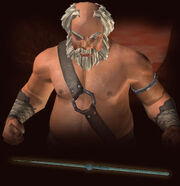 other resources
none applicable
Giants are planar beings, originally from one or another of the Elemental Planes, and they are often very closely associated with the element of their origin.
There are many different kinds of Giants:
Earth Giants (the most common type)
Sand Giants
Fire Giants
Frost Giants
Storm Giants
Ettins

While technically a different species, they can easily be considered a type of Giant, and count as them for the Lore and Legend quest. 

For the Lore & Legend quest for this race, see Lore and Legend: Giant.

Subcategories
This category has the following 7 subcategories, out of 7 total.
Pages in category "Giant"
The following 183 pages are in this category, out of 183 total.
A

B

C

D

E

F

G

H

I

I cont.

J

K

L

L cont.

M

N

O

P

R

S

T

U

V

W
Ad blocker interference detected!
Wikia is a free-to-use site that makes money from advertising. We have a modified experience for viewers using ad blockers

Wikia is not accessible if you've made further modifications. Remove the custom ad blocker rule(s) and the page will load as expected.