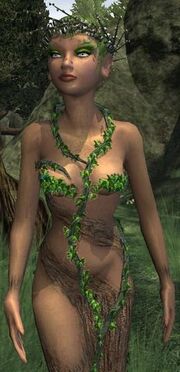 other resources
none applicable
The Dryad is the embodiment of the grandeur of a forest. They are a form of fairy. The beauty of a timberland may manifest itself within a number of these beautiful creatures that share a likeness with the wood elves of Norrath. These creatures are a part of the forest that surrounds them, but still maintain a separate identity.

Pages in category "Dryad"
The following 48 pages are in this category, out of 48 total.
A

B

C

D

E

F

F cont.

H

J

K

M

O

S

T

V

W

Z