Recent Updates to this Category
---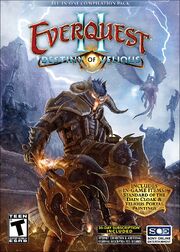 Destiny of Velious is the seventh expansion for Everquest 2, released in February 22, 2011. It contains content intended for levels 85-90. This expansion also gives access to all previous released expansions and adventure packs. Adventuring, tradeskill, and guild level caps are still capped at 90 and the AA cap is raised to 300. Destiny of Velious takes place in the land of Velious.
Destiny of Velious Feature Set:
New Zones: Journey through more than 15 new zones, including two new overland zones.
Achievement Point: An achievement level cap increase to 300 that offers new achievements for class-specific lines.
Heritage Quests: Four new quests with unique rewards being added.
Public Quests
Access to All Previous Content: Includes all previous expansion packs and adventure packs.
Getting to the new overland zone
Edit
The expansion introduces two new overland zone, Great Divide and Eastern Wastes, which can be accessed by the port in The Sinking Sands or by using zone paintings.
Persistent group instances
Edit
Quest Access
Raid zones
Edit
The rating is subjective experience from beta players.
Tradeskilling
Edit
Speak to Matthew, the Far Seas Trading Company rep getting established in the othmir village of Fina's Retreat in Velious to get you started with tradeskilling in Velious!
approximately 70 new tradeskill quests await, assisting othmir, gnome pirates, coldain, and more.
there's a new flying mount to earn (a choice of 2 unique appearances)
Norrath's first tradeskill heritage quest is available! It's going to be challenging, but will the reward be worth it?
another tradeskill signature quest also awaits, for crafters of level 90 who may be suffering from a small gathering obsession...
recipes to earn from the Forgemasters of Thurgadin faction
great looking new outfits to wear, appearance weapons to wield, and furniture to decorate your home
a new "red shiny" tradeskill collection
also, be aware of the pristine bonus changes coming up

For new crafting related quests included in DoV see Destiny of Velious Crafting Timeline
Thanks to [[1]] for the early dungeon writeup