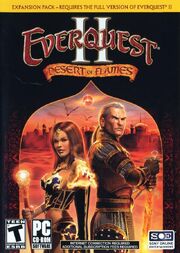 The first expansion for EverQuest II takes us to the Island of Ro (formerly known as the Desert of Ro in the original Everquest) and the heart of the Dervish Empire, the jewel of the desert, Maj'Dul.
Heritage & Signature Quests
Edit
Solo Quest Series
Edit
Access Quests
Edit
See the Shimmering Citadel Timeline for access to the following zones (achieved in this order):
Harvests
Edit
Faction is an important aspect in Desert of Flames particularly with the three courts of Maj'Dul: Blades, Coin and Truth.
Subcategories
This category has the following 12 subcategories, out of 12 total.
Pages in category "Desert of Flames"
The following 63 pages are in this category, out of 63 total.
A

B

C

C cont.

D

F

G

H

L

M

P

S

T

V