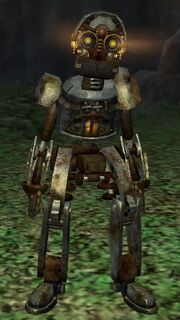 other resources
none applicable
The Clockworks were once the servants of the Gnomes of Ak'Anon but, after the gnomes fled their under-mountain city during the Shattering, the now-masterless clockworks found a way to maintain themselves using a magical power source and declared their independance. Now self-ruling, they have renamed their city Klak'Anon and defend it against all others, especially their former masters. 
Pages in category "Clockwork"
The following 129 pages are in this category, out of 129 total.
!

A

B

C

D

E

F

G

H

I

K

L

M

M cont.

N

O

P

R

S

T

U

W

X

Z
Ad blocker interference detected!
Wikia is a free-to-use site that makes money from advertising. We have a modified experience for viewers using ad blockers

Wikia is not accessible if you've made further modifications. Remove the custom ad blocker rule(s) and the page will load as expected.