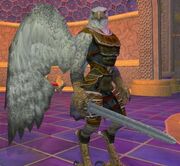 other resources
none applicable
The eagle-like species of Avians are called Aviaks. A flock of Aviaks fled looking for shelter during The Shattering and came to find The Overrealm. It is here that they presently call home in The Barren Sky.
Tribes
Subcategories
This category has the following 2 subcategories, out of 2 total.
Pages in category "Aviak"
The following 112 pages are in this category, out of 112 total.
A

B

B cont.

C

D

F

G

H

I

K

K cont.

L

M

N

P

Q

R

S

T

V

W

Y

Z