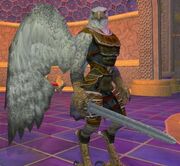 other resources
none applicable
The eagle-like species of Avians are called Aviaks. A flock of Aviaks fled looking for shelter during The Shattering and came to find The Overrealm. It is here that they presently call home in The Barren Sky.
Tribes
Subcategories
This category has the following 2 subcategories, out of 2 total.
Pages in category "Aviak"
The following 105 pages are in this category, out of 105 total.
A

B

B cont.

C

D

F

G

H

I

K

K cont.

L

M

N

P

Q

R

S

T

V

W

Y

Z
Ad blocker interference detected!
Wikia is a free-to-use site that makes money from advertising. We have a modified experience for viewers using ad blockers

Wikia is not accessible if you've made further modifications. Remove the custom ad blocker rule(s) and the page will load as expected.