You may upload a JPG or PNG image of the in-game examine window.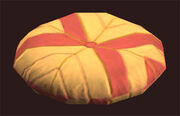 EverQuest II Item Information
\aITEM 302611693 2035400113:Carrot-Stained Pillow\/a \aITEM 302611693 2035400113:Carrot-Stained Pillow\/a
What does this information mean?
When crafted successfully, this recipe yields 2 of this item.
In order to make this and other items from the same recipe book, you need gathered materials from Jester's gardens, only available during the event.
| | |
| --- | --- |
| | This article refers to events, personae and activities only present in-game during the annual Bristlebane Day celebration, which comes to Norrath each year on and around April 1st. |
EQ2i credits this article at Census for the info in this article.
the last update on Census for this item was:
Tue, 18 Jul 2017 14:47:35 +0000
Ad blocker interference detected!
Wikia is a free-to-use site that makes money from advertising. We have a modified experience for viewers using ad blockers

Wikia is not accessible if you've made further modifications. Remove the custom ad blocker rule(s) and the page will load as expected.