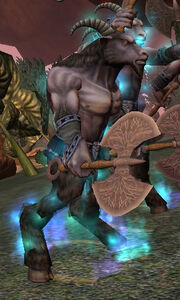 .

After you finish up with Aggi Stonefist, its not very clear what you are supposed to do next, as Capru does not have an immediate quest marker. Find Capru in the Gohamari Village, and right click on his pet crystaline spider nearby, Ktlk. Choose the "pet" option, and Capru will light up.
Related Quests
Edit
Ad blocker interference detected!
Wikia is a free-to-use site that makes money from advertising. We have a modified experience for viewers using ad blockers

Wikia is not accessible if you've made further modifications. Remove the custom ad blocker rule(s) and the page will load as expected.