Ad blocker interference detected!
Wikia is a free-to-use site that makes money from advertising. We have a modified experience for viewers using ad blockers

Wikia is not accessible if you've made further modifications. Remove the custom ad blocker rule(s) and the page will load as expected.
In-Game Examine Window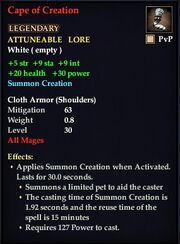 Cape of Creation

LEGENDARY
ATTUNEABLE   LORE

+5 str

+9 int

+9 sta




+20 health

+30 power



Summon Creation
 
Cloth Armor (Shoulders)
Mitigation
63
Level
30 (Tier 4)
All Mages
 
Effects:


Apples Summon Creation when Activated. Lasts for 30.0 seconds.

Summons a limited pet to aid caster
The casting time of Summon Creation is 2.0 seconds and the reuse time of the spell is 14 minutes 43 seconds
Requires 127 Power to cast
Obtain: From the Ornate Chest of The Creator in Ruins of Varsoon.
What does this information mean?