What does this information mean?
Back during the time that Everquest 1 took place in, four daughters of a Paladin - Jayla, Kayla, Shayla and Tayla Nybright - rebelled against their father and turned to banditry, operating out of a camp in Lesser Faydark. In the centuries since then, the Nybright family has grown into an organized crime syndicate, and is still run by the descendants of the Nybright sisters, still in LFay.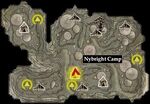 Ad blocker interference detected!
Wikia is a free-to-use site that makes money from advertising. We have a modified experience for viewers using ad blockers

Wikia is not accessible if you've made further modifications. Remove the custom ad blocker rule(s) and the page will load as expected.