In-Game Examine Window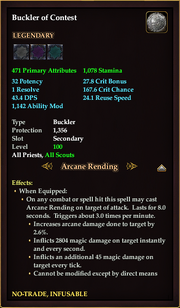 Buckler of Contest

LEGENDARY
NO-TRADE   INFUSABLE
   

+471 agi

+471 wis

+1,078 sta



43.4 Damage Per Second
167.6% Crit Chance
27.8% Crit Bonus
32%  Potency
1 Resolve
+1,142 Ability Modifier

Arcane Rending
 
Slot
Secondary
Level
100 (Tier 11)
All Priests, All Scouts
 
Effects:


When Equipped:

On any combat or spell hit this spell may cast Arcane Rending on target of attack. Lasts for 8.0 seconds. Triggers about 3.0 times per minute.

Increases arcane damage done to target encounter by 2.6%
Inflicts 1,397,112 magic damage on target instantly and every second.
Heals target for an additional 37,500 every tick.
Cannot be modified except by direct means

This item may not be used in a PvP zone.
Obtain: Reward from the collection quest, Figures of War.
\aITEM 1527447267 1701202913 0 0 0:[Buckler of Contest]\/a \aITEM 1527447267 1701202913 0 0 0:[Buckler of Contest]\/a
What does this information mean?
Ad blocker interference detected!
Wikia is a free-to-use site that makes money from advertising. We have a modified experience for viewers using ad blockers

Wikia is not accessible if you've made further modifications. Remove the custom ad blocker rule(s) and the page will load as expected.