In-Game Examine Window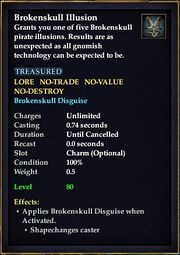 EverQuest II Item Information
Brokenskull Illusion

Grants you one of five Brokenskull pirate illusions. Results are as unexpected as all gnomish technology can be expected to be.
 
TREASURED
ORNATE  LORE  NO-TRADE  NO-VALUE
Brokenskull Disguise
Charges
Unlimited
Casting
1 second
Duration
20 hours
Recast
0.0 seconds
Level
80 (Tier 9)
Effects:

Applies Brokenskull Disguise when Activated.



Obtain: Reward from the quest "A Higher Purpose."
\aITEM 496235010 1743659829:Brokenskull Illusion\/a \aITEM 496235010 1743659829:Brokenskull Illusion\/a
What does this information mean?
EQ2i credits this article at Census for the info in this article.
the last update on Census for this item was:
Tue, 18 Jul 2017 14:48:10 +0000
Ad blocker interference detected!
Wikia is a free-to-use site that makes money from advertising. We have a modified experience for viewers using ad blockers

Wikia is not accessible if you've made further modifications. Remove the custom ad blocker rule(s) and the page will load as expected.