In-Game Examine Window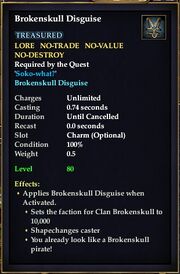 Brokenskull Disguise

TREASURED
LORE   NO-TRADE   NO-VALUE   NO-DESTROY
Required by the Quest
'Soko-what?'
Brokenskull Disguise
 
Charges
Unlimited
Casting
0.74 seconds
Duration
Until Canceled
Recast
0.0 seconds
Slot
Charm (Optional)
Level
80 (Tier 9)
 
Effects:


Applies Brokenskull Disguise when Activated.

Sets the faction for Clan Brokenskull to 10,000
Shapechanges caster
You already look like a Brokenskull pirate!
Obtain: At the start of the quest Soko-what? from Fip Marrsquire
What does this information mean?