In-Game Examine Window
[[image: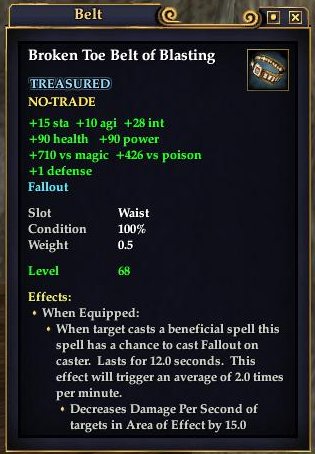 |thumb|right|Broken Toe Belt of Blasting]]
Broken Toe Belt of Blasting

TREASURED
NO-TRADE

+10 agi

+28 int

+15 sta




+90 health


+426 vs noxious +710 vs arcane
+1 Defense

Fallout
 
Slot
Waist
Level
68 (Tier 7)
 
Effects:


When Equipped:

When target casts a beneficial spell this spell has a chance to cast Fallout on caster. Lasts for 12.0 seconds. This effect will trigger an average of 2.0 times per minute.

Decreases Damage Per Second of targets in Area of Effect by 15.0
Obtain: Reward from the quest "Keep Your Enemies Closer."
What does this information mean?