What does this information mean?
Steps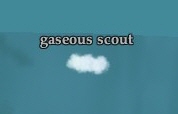 Find a nameless druid in the Ryjesium Peaks of Kylong Plains ( 1435, 417, -541 ) 

/waypoint 1435, 417, -541

Fish 10 gaseous scouts (look like small clouds) off the cliffs, ranging from about ( 1527, 384, -319 ) 

/waypoint 1527, 384, -319

around to ( 1355, 385, -252 ) 

/waypoint 1355, 385, -252

. There are approximately 8 of them, with a relatively short respawn of up to 3-4 minutes, but they are also found around ( 1209, 401, -571 ) 

/waypoint 1209, 401, -571

so you dont have to wait for repop.
Return to the nameless druid.
Return to Veryn P'Neru.
This quest can be done at the same time as:
This quest is part of the Warden Epic Weapon Timeline, and can only be started/completed by a member of that class of at least Level 80.
---
Ad blocker interference detected!
Wikia is a free-to-use site that makes money from advertising. We have a modified experience for viewers using ad blockers

Wikia is not accessible if you've made further modifications. Remove the custom ad blocker rule(s) and the page will load as expected.