What does this information mean?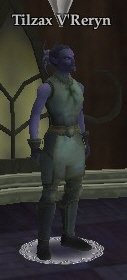 Speak to Tilzax V'Reryn on the top floor of the Shadow Oak in the Darklight Woods ( 450, -7, -268 ) 

/waypoint 450, -7, -268
This quest is part of the Warden Epic Weapon Timeline, and can only be started/completed by a member of that class of at least Level 80.
---
Ad blocker interference detected!
Wikia is a free-to-use site that makes money from advertising. We have a modified experience for viewers using ad blockers

Wikia is not accessible if you've made further modifications. Remove the custom ad blocker rule(s) and the page will load as expected.