What does this information mean?
Steps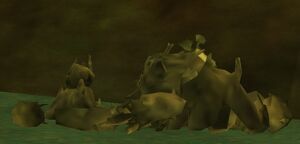 Return to Kunzar Jungle and find a trinket owned by the Wounded of the Earth.
Return to Veryn P'Neru.
Speak with Tilzax V'Reryn to receive the Bite of the Wolf and the next quest (which will upgrade it to the mythical version).
STOP! If your goal is to have the Item for the Epic Conversion Timeline, you do NOT need to do the RAID version. You can begin that timeline now.
This quest is part of the Warden Epic Weapon Timeline, and can only be started/completed by a member of that class of at least Level 80.
---
Ad blocker interference detected!
Wikia is a free-to-use site that makes money from advertising. We have a modified experience for viewers using ad blockers

Wikia is not accessible if you've made further modifications. Remove the custom ad blocker rule(s) and the page will load as expected.