In-Game Examine Window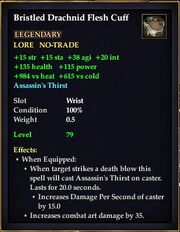 Bristled Drachnid Flesh Cuff

LEGENDARY
LORE   NO-TRADE

+15 str

+38 agi

+20 int

+15 sta




+135 health


+984 vs elemental

Assassin's Thirst
 
Slot
Wrist
Level
79 (Tier 8)
 
Effects:


When Equipped:

When target strikes a death blow this spell will cast Assassin's Thirst on caster. Lasts for 20.0 seconds.

Increases Damage Per Second of caster by 15.0

Increases combat art damage by 35.
Obtain: Reward from the quest "A Path for Medicus" in Jarsath Wastes.
What does this information mean?