In-Game Examine Window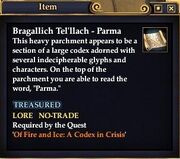 EverQuest II Item Information
Bragallich Tel'llach - Parma

This heavy parchment appears to be a section of a large codex adorned with several indecipherable glyphs and characters. On the top of the parchment you are able to read the word "Parma."
 
TREASURED
LORE  NO-TRADE
Required by the Quest
'Of Fire and Ice: A Codex in Crisis'
Obtain: See notes below.
What does this information mean?
This is the FIRST page a wizard has to loot to advance the Quest Of Fire and Ice: A Codex in Crisis. It is dropped by Gorowyn tagged mobs OUTSIDE the main door of the Palace..... (Neither inside nor in the yard in front of the palace) ONLY in the corridor.
Ad blocker interference detected!
Wikia is a free-to-use site that makes money from advertising. We have a modified experience for viewers using ad blockers

Wikia is not accessible if you've made further modifications. Remove the custom ad blocker rule(s) and the page will load as expected.