In-Game Examine Window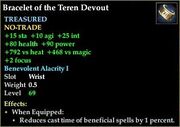 Bracelet of the Teren Devout

TREASURED
NO-TRADE

+10 agi

+25 int

+15 sta




+80 health


+792 vs elemental +468 vs arcane
+2 Focus

Benevolent Alacrity I
 
Slot
Wrist
Level
69 (Tier 7)
 
Effects:


When Equipped:

Reduces cast time of beneficial spells by 1 percent.
Obtain: Reward from the quest "An Important Package."
What does this information mean?