In-Game Examine Window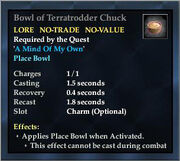 Bowl of Terratrodder Chuck

LORE   NO-TRADE   NO-VALUE
Required by the Quest
'A Mind Of My Own'
Place Bowl
 
Charges
1/1
Casting
1.5 seconds
Recovery
0.4 seconds
Recast
1.8 seconds
Slot
Charm (Optional)
 
Effects:


Applies Place Bowl when Activated.

This effect cannot be cast during combat.
Obtain: Received from Talvrae T'Zyth, for use in the quest "A Mind Of My Own"
What does this information mean?