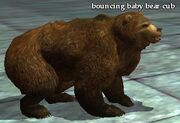 The ability to summon bouncing baby bear cub was purchased through the EQ2 Marketplace during Child's Play Winter Holiday Charity Drive in 2009. This fluff pet's back is waist high to a Gnome, and he performs various emotes when hailed, occasionally with a growly dialogue.
This pet does NOT override Deity pets.
Emotes:
... looks around playfully! - "Rrrowr?"
... shakes himself off. - "Grrarrr!"
... sniffs around.
... snorts. - "Grrrr."
Ad blocker interference detected!
Wikia is a free-to-use site that makes money from advertising. We have a modified experience for viewers using ad blockers

Wikia is not accessible if you've made further modifications. Remove the custom ad blocker rule(s) and the page will load as expected.