Ad blocker interference detected!
Wikia is a free-to-use site that makes money from advertising. We have a modified experience for viewers using ad blockers

Wikia is not accessible if you've made further modifications. Remove the custom ad blocker rule(s) and the page will load as expected.
In-Game Examine Window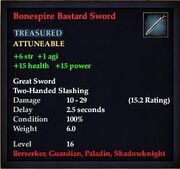 Bonespire Bastard Sword

TREASURED
ATTUNEABLE

+10 str

+10 agi

+4 sta




+30 health

+30 power



 
Great Sword
Two-Handed Slashing
Damage
10-30                  (16.0 Rating)
Delay
2.5 seconds
Level
16 (Tier 2)
Berserker, Guardian, Paladin, Shadowknight
 
Obtain: [How can I get one?] try LootDB or the linkback
What does this information mean?