In-Game Examine Window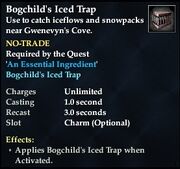 Bogchild's Iced Trap
Use to catch iceflows and snowpacks near Gwenevyn's Cove.

NO-TRADE
Required by the Quest
'An Essential Ingredient'
Bogchild's Iced Trap
 
Charges
Unlimited
Casting
1.0 second
Recast
3.0 seconds
Slot
Charm (Optional)
 
Effects:


Applies Bogchild's Iced Trap when Activated.
Obtain: Given during the quest An Essential Ingredient
What does this information mean?