Ad blocker interference detected!
Wikia is a free-to-use site that makes money from advertising. We have a modified experience for viewers using ad blockers

Wikia is not accessible if you've made further modifications. Remove the custom ad blocker rule(s) and the page will load as expected.
In-Game Examine Window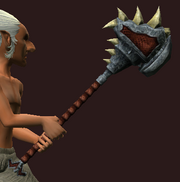 Blunted Terror
Perfect balance allows you to crush those peons before you, to send them flying, and to fill them with fear.


FABLED
ATTUNEABLE
    

+311 wis

+311 sta



82.8% Attack Speed
29.7% Multi Attack Chance
101.1% Crit Chance
18.6% Crit Bonus
18.6%  Potency
5% Ability Reuse Speed
20.7% Ability Casting Speed

 
Great Hammer
Two-Handed Crushing
Damage
201 - 1097                  (216.3 Rating)
Delay
6.0 seconds
Level
92 (Tier 10)
All Fighters, All Mages, All Priests, Beastlord
 
Obtain: From Sheekla the Ether Fang in The Eidolon Jungle.
\aITEM 80148671 -633607614:Blunted Terror\/a \aITEM 80148671 -633607614:Blunted Terror\/a
What does this information mean?