For other articles with related titles, see Bloody Brass Shield.

In-Game Examine Window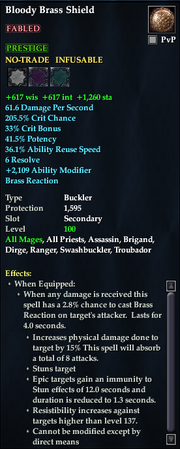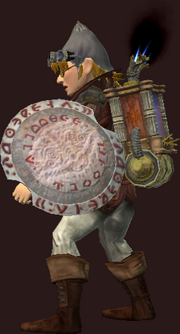 Bloody Brass Shield


FABLED
PRESTIGE
INFUSABLE  NO-TRADE
   

+617 wis

+617 int

+1,260 sta



61.6 Damage Per Second
205.5% Crit Chance
33% Crit Bonus
41.5%  Potency
36.1% Ability Reuse Speed
6 Resolve
+2,109 Ability Modifier

Brass Reaction
 
Buckler
Type
Buckler
Protection
1,595
Slot
Secondary
Level
100 (Tier 11)
All Mages, All Priests, Assassin, Ranger, Dirge, Troubador, Brigand, Swashbuckler
 
Effects:


When Equipped:

When any damage is received this spell has a 2.8% chance to cast Brass Reaction on target's attacker. Lasts for 4.0 seconds.
Increases physical damage done to target by 15% This spell will absorb a total of 8 attacks.
Stuns target
Epic targets gain an immunity to Stun effects of 12.0 seconds and duration is reduced to 1.3 seconds.
Resistibility increases against targets higher than level 137.
Cannot be modified except by direct means
Obtain: Reward from the collection quest, Fabled Weapons of the Orcish Wastes.
\aITEM -244360056 305287060:Bloody Brass Shield\/a \aITEM -244360056 305287060:Bloody Brass Shield\/a
What does this information mean?
Ad blocker interference detected!
Wikia is a free-to-use site that makes money from advertising. We have a modified experience for viewers using ad blockers

Wikia is not accessible if you've made further modifications. Remove the custom ad blocker rule(s) and the page will load as expected.