In-Game Examine Window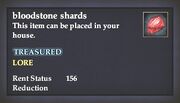 EverQuest II Item Information
Type: House Item

Bloodstone shards

It has been said that the bearer of such stones will be granted the strengths of hero's lost. Beware however, a rumor is stirring through Freeport. It is being said that these lost adventurers were taken into the shadows and these stones represent their terror. To those who choose to carry the power in these stones comes a great curse. You don't believe in curses, right?
 
TREASURED
LORE
Rent Status
Reduction
156

Obtain: Reward from the collection quest, bloodstone shard collection.
Ad blocker interference detected!
Wikia is a free-to-use site that makes money from advertising. We have a modified experience for viewers using ad blockers

Wikia is not accessible if you've made further modifications. Remove the custom ad blocker rule(s) and the page will load as expected.