Ad blocker interference detected!
Wikia is a free-to-use site that makes money from advertising. We have a modified experience for viewers using ad blockers

Wikia is not accessible if you've made further modifications. Remove the custom ad blocker rule(s) and the page will load as expected.
In-Game Examine Window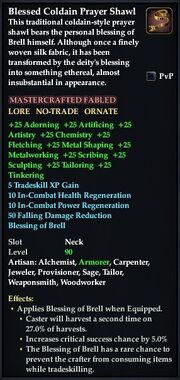 Blessed Coldain Prayer Shawl
This traditional coldain-style prayer shawl bears the personal blessing of Brell himself. Although once a finely woven silf before fabric, it has been transformed by the deity's blessing into something ethereal, almost insubstantial in appearance.

MASTERCRAFTED FABLED
LORE   NO-TRADE   ORNATE
+25 Adorning +25 Artificing +25 Artistry +25 Chemistry +25 Fletching +25 Metalworking +25 Scribing +25 Sculpting +25 Tailoring +25 Tinkering
10 In-Combat Health Regeneration Per Tick
10 In-Combat Power Regeneration Per Tick

5 Tradeskill XP Gain
50 Falling Damage Reduction
Blessing of Brell
 
Slot
Neck
Level
90 (Tier 10)
Artisans: Alchemist, Armorer, Carpenter, Jeweler, Provisioner, Sage, Tailor, Weaponsmith, Woodworker
 
Effects:


Applies Blessing of Brell when Equipped.

The Blessing of Brell has a rare chance to prevent the crafter from consuming items while tradeskilling.
Caster will harvest a second time on 27.0% of harvests.
Increases critical success chance by 5.0%
Obtain: Reward from the quest "What Dreams May Come" in Great Divide.
\aITEM -1324208021 1214540530:Blessed Coldain Prayer Shawl\/a \aITEM -1324208021 1214540530:Blessed Coldain Prayer Shawl\/a
What does this information mean?