Ad blocker interference detected!
Wikia is a free-to-use site that makes money from advertising. We have a modified experience for viewers using ad blockers

Wikia is not accessible if you've made further modifications. Remove the custom ad blocker rule(s) and the page will load as expected.
In-Game Examine Window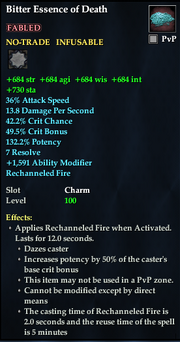 Bitter Essence of Death


FABLED
INFUSABLE   NO-TRADE
 

+684 str

+684 agi

+684 wis

+684 int

+730 sta



36% Attack Speed
13.8 Damage Per Second
42.2% Crit Chance
49.5% Crit Bonus
132.2%  Potency
+1,591 Ability Modifier
7 Resolve

Rechanneled Fire
 
Charges
Unlimited
Casting
2.0 seconds
Duration
12.0 seconds
Recast
5 minutes
Slot
Charm (Optional)
Level
100 (Tier 11)
 
Effects:


Applies Rechanneled Fire when Activated. Lasts for 12.0 seconds.

Dazes caster
Increases potency by 50% of the caster's base crit bonus
This item may not be used in a PvP zone.
Cannot be modified except by direct means
The casting time of Rechanneled Fire is 2.0 seconds and the reuse time of the spell is 5 minutes
Obtain: Reward from the collection quest, Tallon's Diadems.
\aITEM 997887711 -123710571:Bitter Essence of Death\/a \aITEM 997887711 -123710571:Bitter Essence of Death\/a
What does this information mean?