In-Game Examine Window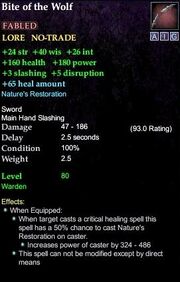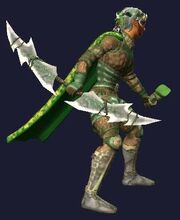 Bite of the Wolf


FABLED
LORE  NO-TRADE

+24 str

+40 wis

+26 int




+160 health

+180 power


+3 Slashing
+5 Disruption

+65 Ability Modifier

Nature's Restoration
 
Sword
Main Hand Slashing
Damage
47-186                  (93.0 Rating)
Delay
2.5 seconds
Level
80 (Tier 9)
Warden
 
Effects:


When Equipped:

On a healing spell cast this spell has a 50% chance to cast Nature's Restoration on caster.

Increases power of caster by 324-486.

This spell cannot be modified except by direct means.
Obtain: Reward from the quest "Broken Barrier: Lessons of the Fallen."
\aITEM 1992857838 -1699784453:Bite of the Wolf\/a \aITEM 1992857838 -1699784453:Bite of the Wolf\/a
What does this information mean?
This item is a reward from one of the Epic Quests introduced with Game Update 42.
See the item's Obtain field for the particular quest that rewards this item.
Ad blocker interference detected!
Wikia is a free-to-use site that makes money from advertising. We have a modified experience for viewers using ad blockers

Wikia is not accessible if you've made further modifications. Remove the custom ad blocker rule(s) and the page will load as expected.