Ad blocker interference detected!
Wikia is a free-to-use site that makes money from advertising. We have a modified experience for viewers using ad blockers

Wikia is not accessible if you've made further modifications. Remove the custom ad blocker rule(s) and the page will load as expected.
In-Game Examine Window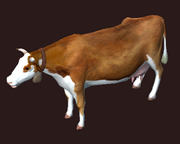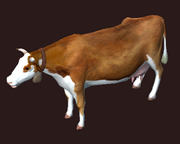 EverQuest II Item Information
What does this information mean?
This cow plushie has some minor animations: it chews its cud, swishes its tail, and twitches its ears but it does not wander like a house pet. The maximum scale is rather limited, so it can not be made quite a large as the cows seen in the farm fields Commonlands.
This is one of several plushies available during Brew Day from a quest. See the Brew Day page for a list of quests that may have other plushies or the page for Balin Copperfoot for any that may be purchased with Beer Tokens.
| | |
| --- | --- |
| | This article refers to events, personae and activities only present in-game during the annual Brew Day celebration, which comes to Norrath each year the week of March 17th. |