In-Game Examine Window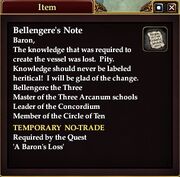 EverQuest II Item Information
Type: Quest Item

Bellengere's Note

Baron, The knowledge that was required to create the vessel was lost. Pity. Knowledge should never be labeled heretical! I will be glad of the change.
Bellengere the Three
Master of the Three Arcanum Schools
Leader of the Concordium
Member of the Circle of Ten
 
 
TEMPORARY  NO-TRADE
Required by the Quest
'A Baron's Loss'

Obtain: Received by talking to Baron Kaedrin Ironforge during the quest A Baron's Loss.
What does this information mean?