In-Game Examine Window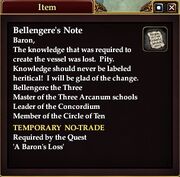 EverQuest II Item Information
Type: Quest Item

Bellengere's Note

Baron,


The knowledge that was required to create the vessel was lost. Pity. Knowledge should never be labeled heretical! I will be glad of the change.
Bellengere the Three
Master of the Three Arcanum schools
Leader of the Concordium
Member of the Circle of Ten

 
TEMPORARY  NO-TRADE  NO-VALUE
Required by the Quest
'A Baron's Loss'

Obtain: Received by talking to Baron Kaedrin Ironforge during the quest A Baron's Loss.
\aITEM -1255083009 791226742:Bellengere's Note\/a \aITEM -1255083009 791226742:Bellengere's Note\/a
What does this information mean?
EQ2i credits this article at Census for the info in this article.
the last update on Census for this item was:
Tue, 18 Jul 2017 14:52:16 +0000
Ad blocker interference detected!
Wikia is a free-to-use site that makes money from advertising. We have a modified experience for viewers using ad blockers

Wikia is not accessible if you've made further modifications. Remove the custom ad blocker rule(s) and the page will load as expected.