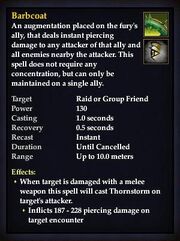 In-Game Examine Window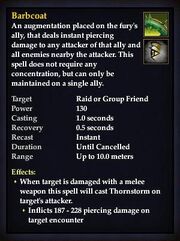 WARNING:This template depreciated, please use Template:SpellInformation2 when updating
| | |
| --- | --- |
|  Casting Time |  1.0 seconds |
|  Recast time |  Instant |
|  Cost |  130 power  |
|  Duration |  Until Canceled |
|  Range |  10.0 meters |
What does this information mean?
This spell is one of the spells given to good players when engaged in The Battle of Cauldron Hollow.
Spell Effects by Spell Rank
Effect
Apprentice
Journeyman
Adept
Expert
Master
Grandmaster
When attacked with melee, proc inflicts 187-228 piercing dmg
direct effect, no improvement by spell rank
Cells for spell ranks that are not available for this spell are displayed as black.