You may upload a JPG or PNG image of the in-game examine window.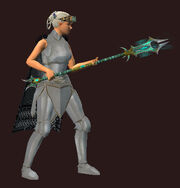 Baelon's Concession
28% Crit Bonus
54% Damage Per Second
160% Crit Chance
28% Potency
80% Attack Speed

LEGENDARY
HEIRLOOM   ATTUNABLE
      

+460 str

+460 wis

+800 sta



 
Great Spear
Two-Handed Piercing
Damage
216-1,127                  (240.05 Rating)
Level
95 (Tier 10)
Berserker, Guardian, Defiler, Mystic, Paladin, Shadowknight
 
Obtain: This item can be purchased from A Heroes' Festival merchant for ? Mischeva's Tribute
\aITEM -1027955319 1203445939:Baelon's Concession\/a \aITEM -1027955319 1203445939:Baelon's Concession\/a
What does this information mean?
All of the Heroes' Festival shields and weapons named after the event monsters share identical appearances for all levels, following a pattern. For example, Darathar's Ethos is identical to Trakanon's Ethos and Roehn Theer's Quarrel is identical to Djinn Master's Quarrel.
| | |
| --- | --- |
| | This article refers to events, personae, items and activities only present in-game during the annual Heroes' Festival event. Heroes' Festival comes to Norrath for a short time, generally around the beginning of November. |
Ad blocker interference detected!
Wikia is a free-to-use site that makes money from advertising. We have a modified experience for viewers using ad blockers

Wikia is not accessible if you've made further modifications. Remove the custom ad blocker rule(s) and the page will load as expected.