You may upload a JPG or PNG image of the in-game examine window.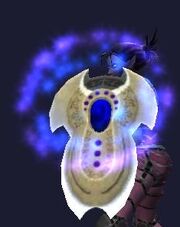 B'Riareos' Defender

LEGENDARY
ATTUNEABLE   LORE

+20 str

+15 wis

+35 sta




+125 health

+75 power


+292 vs noxious +803 vs arcane

Sparkling Aura
 
Kite Shield
Type
Kite Shield
Protection
1,191
Slot
Secondary
Level
68 (Tier 7)
Berserker, Guardian, Paladin, Shadowknight
 
Effects:


When Equipped:

When target blocks this spell has a 50% chance to cast Sparkling Aura on target's victim. Lasts for 2.0 seconds.

Dazes target encounter
Increases Threat to target encounter by 750
Epic targets gain an immunity to Daze effects of 6.0 seconds and duration is reduced to 0.7 seconds.
Resistibility increases against targets higher than level 93.
Obtain: From the Ornate Chest of Vanquisher B'Riareos in Castle Mistmoore.
\aITEM -1205680889 -488862924:B'Riareos' Defender\/a \aITEM -1205680889 -488862924:B'Riareos' Defender\/a
What does this information mean?
| | |
| --- | --- |
| | The author wishes to credit LootDB. |
for Drop Information
Ad blocker interference detected!
Wikia is a free-to-use site that makes money from advertising. We have a modified experience for viewers using ad blockers

Wikia is not accessible if you've made further modifications. Remove the custom ad blocker rule(s) and the page will load as expected.