For other articles with related titles, see Ayonic Axe.


You may upload a JPG or PNG image of the in-game examine window.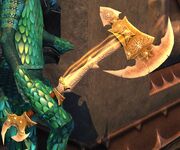 Ayonic Axe

MYTHICAL
LORE  NO-TRADE

+50 agi

+48 sta



8.8% Attack Speed
8.8 Damage Per Second
6.9% Crit Chance
2.6% Crit Bonus
2.7%  Potency

Ayonic Hymn
Maestro's Concerto
Ayonic Inspiration
 
Axe
Main Hand Slashing
Damage
88 - 448                  (134.0 Rating)
Delay
4.0 seconds
Level
80 (Tier 9)
Troubador
 
Effects:


When Equipped:

On any successful attack this spell has a chance to cast Ayonic Hymn on target of attack. Lasts for 12.0 seconds. This effect will trigger an average of 2.4 times per minute.

Increases Damage Spell Crit Chance of caster by 15.0%
Inflicts 619-928 mental damage on target

This spell cannot be modified except by direct means

When Equipped:

Applies the effects of Perfection of the Maestro to all raid members.

When Equipped:

Aria of Magic will improve hostile spell damage by 10%
Obtain: Reward from the quest "Son'Nia's Song."
\aITEM -140930154 426931929:[Ayonic Axe]\/a \aITEM -140930154 426931929:[Ayonic Axe]\/a
What does this information mean?
This item is a reward from one of the Epic Quests introduced with Game Update 42.
See the item's Obtain field for the particular quest that rewards this item.