What does this information mean?
Tank with your back to the stump located on his peninsula.
He has a melee aoe that has to be jousted, piercing darkness.
He has an aoe knockback, so control your flight by holding forward while airbourne.
You'll have to cure noxious.
There are arcane/traumatic poxules that have to be killed by mages/priests and fighters/scouts (if the wrong class hits it first, you're SOL) - If they are up too long, they cast an aoe stun on the classes that are not able to kill them, so make sure you kill them quickly.
Battle Weary (Raidwide debuff) sets in at 6:30 - Combat Fatigue (second stage of Battle Weary sets in a couple mins later) - You probably wont live through Battle Weary, and you WILL die to the next piercing darkness melee aoe once Combat Fatigue is applied.
It has consume soul, so stay out of range of his melee AoE, because it'll heal the avatar.
Fight for good guilds is sub three min, not hard at all.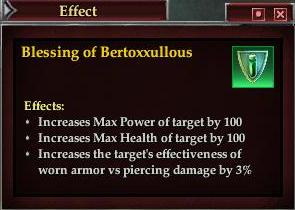 Ad blocker interference detected!
Wikia is a free-to-use site that makes money from advertising. We have a modified experience for viewers using ad blockers

Wikia is not accessible if you've made further modifications. Remove the custom ad blocker rule(s) and the page will load as expected.