What does this information mean?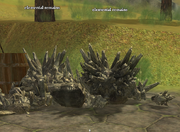 Speak to Trader Cylianna outside the Far Seas bank ( -37, -3, 142 ) 

/waypoint -37.44, -2.70, 142.04

 .
Click the "elemental remains" by Cylianna to find a metal mechanism within the elemental.

Note: Harvest 6 of them ! You will need 5 metal mechanisms for the next step, you'll need another one later.

Speak to Cylianna again and receive Ore Assay Recipes, which auto-scribe and require a forge.

Perform the adamantine ore assay.
Perform the ferrite ore assay.
Perform the titanium ore assay.
Perform the rhenium ore assay.
Perform the cadmium ore assay.

Speak to Cylianna.
Return to Ethan Dariani.
Needed Materials
Edit
Ad blocker interference detected!
Wikia is a free-to-use site that makes money from advertising. We have a modified experience for viewers using ad blockers

Wikia is not accessible if you've made further modifications. Remove the custom ad blocker rule(s) and the page will load as expected.