You may upload a JPG or PNG image of the in-game examine window.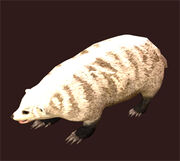 EverQuest II Item Information
\aITEM 1321127702 -1225566911:Arctic Badger\/a \aITEM 1321127702 -1225566911:Arctic Badger\/a
What does this information mean?
Purchased only during Brew Day using 4 Beer Tokens.
| | |
| --- | --- |
| | This article refers to events, personae and activities only present in-game during the annual Brew Day celebration, which comes to Norrath each year the week of March 17th. |
EQ2i credits this article at Census for the info in this article.
the last update on Census for this item was:
Tue, 24 Oct 2017 20:47:12 +0000
Ad blocker interference detected!
Wikia is a free-to-use site that makes money from advertising. We have a modified experience for viewers using ad blockers

Wikia is not accessible if you've made further modifications. Remove the custom ad blocker rule(s) and the page will load as expected.