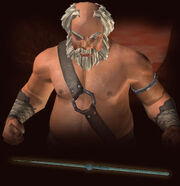 .
What does this information mean?
He will summon two adds, healer and a fighter. a summoned Avazek bishop will heal and drain power (not a lot though; has approximately 13M HP) and a summoned Avazek challenger will just get in your way (4.5M HP). The summoned bishop has some massive heal nukes (spell is called Vigor) which heal the named for over 3M. Vorkin also has the same spell which sometimes heals for 10M. Basically make sure to dispose off the bishop first and focus on the named, don't even bother with the challenger or kill him with AOE's. Depending on your DPS and how the mob heals align and crit, you may be on the hook for another 15-20M work of damage to take down this mob.
Ad blocker interference detected!
Wikia is a free-to-use site that makes money from advertising. We have a modified experience for viewers using ad blockers

Wikia is not accessible if you've made further modifications. Remove the custom ad blocker rule(s) and the page will load as expected.