In-Game Examine Window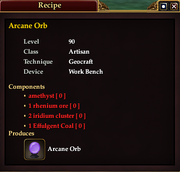 What does this information mean?
Components
Edit
1 amethyst
1 rhenium ore
2 iridium cluster
1 Effulgent Coal
There is no itemlink for this recipe, only the following log entry:

 Recipe: "Arcane Orb" put in recipe book.

You will find that it is already scribed in your recipe book.