Once known as the Qeynos Hills and Tunaria before that, this pleasant countryside region has since been renamed New Antonica or simply Antonica. It is named after the continent that the Shattered Lands comprised to create when they were one, which was originally named after Antonius Bayle I the Great Unifier, the founder of the City of Qeynos.
Antonica is part of the bastion of the Kingdom of Qeynos. This is a fertile land of pastures and grass covered hills and dales. Large hills embrace the valley that makes up most of Antonican countryside. The lush land has a highland coastline along the west. Spots of groves can be found in numerous gullies, hiding many small ponds. This region is dominated in many areas by mild woodland and rolling hills. Spots of colorful flowers can be found amidst the lush greenery.
Antonica was once a great battlefield during the War of Plagues. It is not uncommon to find the remnants of the plagued undead army that once held the city of Qeynos under siege for many months. Nearly every point of interest played a part or tells a story of a battle or important event that took place during the War of Plagues.
Geography
Edit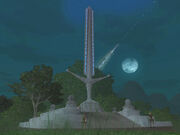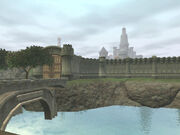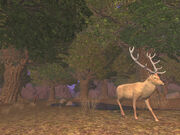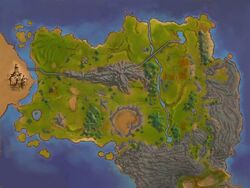 The sprawling city of Qeynos is located at the west end of Antonica. Direct bridge connections lead from Antonica into the districts of North Qeynos and South Qeynos, and a sewer grate in the moat near Coldwind Point provides access to the low-level adventure yard called The Peat Bog. Individuals who are not welcome in Qeynos may use the Peat Bog entrance to reach the city's underground sewer system.
Dungeons
Edit
| Dungeon Name | Level Range | Target Audience | Zone Type | Typical Duration |
| --- | --- | --- | --- | --- |
| Blackburrow | 12-18 | Group | Shared Dungeon | |
| Stormhold | 16-25 | Group | Shared Dungeon | |
Revive Locations
Edit
| Revive Location | Description |
| --- | --- |
Adjacent Zones
Edit
See the Antonica Timeline.
Similar Zones
Edit
Mariner's Bell is located at 441.92, -37.38, 821.79. You can also purchase a Qeynos Tier 3 Guildhall from this location (price 1000p, upkeep 10p, 200,000 status, vendor and vault slots = 0, requires a guild level of 70 or above).
Ad blocker interference detected!
Wikia is a free-to-use site that makes money from advertising. We have a modified experience for viewers using ad blockers

Wikia is not accessible if you've made further modifications. Remove the custom ad blocker rule(s) and the page will load as expected.