What does this information mean?
If doing with multiple people. The ducks do despawn when harvested, but respawn in about 5 seconds.
As a visible level 44 Paladin, approaching the final dead duck, Quacker Lemmy, inevitably proved fatal (too much aggro). But a little invisibility, courtesy of a Totem of the Great Chameleon purchased from a Broker, made all the difference.
Role playing a level 42 character with intelligence as a primary attribute, and using a Saliraptor, I jumped over the mountain range from the north east and then along the west canyon wall until I could drop down on the final dead duck and collect it without any aggro at all.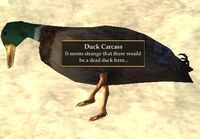 Ad blocker interference detected!
Wikia is a free-to-use site that makes money from advertising. We have a modified experience for viewers using ad blockers

Wikia is not accessible if you've made further modifications. Remove the custom ad blocker rule(s) and the page will load as expected.