In-Game Examine Window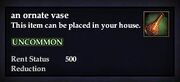 EverQuest II Item Information
What does this information mean?

Two house items with the exact same name (word for word) currently exist in the game as of 2014. See the Notes Below for details.
in Addition, a third player-made vase is easily confused with these on the broker.
Sold by Vhishall Version
Edit
The vase with the exact same name sold by the Furniture NPC Vhishall in Freeport.
Player Made Version
Edit
By name alone, this item can be easily confused for the carpenter made Ornate Vase which shares an identical appearance with the item sold by Vhishall in Freeport.
Ad blocker interference detected!
Wikia is a free-to-use site that makes money from advertising. We have a modified experience for viewers using ad blockers

Wikia is not accessible if you've made further modifications. Remove the custom ad blocker rule(s) and the page will load as expected.