In-Game Examine Window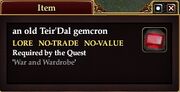 EverQuest II Item Information
\aITEM -501137478 -1477095954:an old Teir'Dal gemcron\/a \aITEM -501137478 -1477095954:an old Teir'Dal gemcron\/a
What does this information mean?
Side 1: "Ambassador D'Vinn, please forgive any disrepect or annoyance my goblin courier may bring upon your court. You do not know me, but I seek refugee within your fortress. I am Tessa N'Mare, a wizard in the service of King Naythox Thex and part of his Faydwer invasion force. As you well know, the war to the west has not gone well and my unit has taken heavy losses. We are scattered and defeated. Even now I must hide from the dwarven patrols among the aquagoblins."
Side 2: "As an ally to the Teir'Dal, I beseech you to accept my petition for shelter. I willingly offer my services of magic user and spell trainer to your people. Please accept this humble bid for refuge, I implore you." -- Tessa N'Mare of House N'Mare
EQ2i credits this article at Census for the info in this article.
the last update on Census for this item was:
Tue, 18 Jul 2017 14:52:59 +0000
Ad blocker interference detected!
Wikia is a free-to-use site that makes money from advertising. We have a modified experience for viewers using ad blockers

Wikia is not accessible if you've made further modifications. Remove the custom ad blocker rule(s) and the page will load as expected.