An indiscernible murky solution (faerie)
Talk

1
Share
Ad blocker interference detected!
Wikia is a free-to-use site that makes money from advertising. We have a modified experience for viewers using ad blockers

Wikia is not accessible if you've made further modifications. Remove the custom ad blocker rule(s) and the page will load as expected.
In-Game Examine Window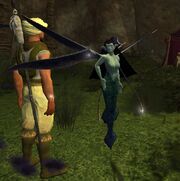 An indiscernible murky solution (faerie)

TREASURED
 
Charges
1
Casting
4.0 seconds
Duration
5.0 minutes
Recast
2.0 seconds
Slot
Charm (Optional)
Level
1 (Tier 1)
 
Effects:


Applies Essence of Fae when activated. Lasts for 5 minutes.

Shapechanges caster into a faerie
Increases AGI of caster by 2.2
Dispels 24-29 levels of disease hostile effects on caster
Obtain: Buy from a shady dervish merchant at The Sinking Sands
What does this information mean?