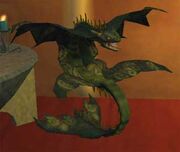 .
What does this information mean?
You may upload a JPG or PNG image of the in-game picture of this mob
To spawn the assassin snakes, first clear all humanoid mobs within the zone. When the zone is empty, four non-attackable seagulls will spawn on the rocks between the shoreline and the zone entrance. Each time you hail a seagull, the bird will fly slowly to the water's edge and spawn an assassin snake, which promptly eats the seagull.