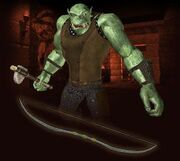 .
What does this information mean?
You can successfully kill his adds and fd or reset him to make for a slightly easier kill. Has an aoe swirling cloud of blood seems to have a delay around 25-35 seconds. Does around 2k dmg. Single nuke Fanatical strike about 2.5k 15-20 second recast Cataclysm - probable aoe poison damage
Wrapping up - crushing and poison resists. I tested this at lvl 75 so i added on about 500 damge per strike to make up for the level.
Ad blocker interference detected!
Wikia is a free-to-use site that makes money from advertising. We have a modified experience for viewers using ad blockers

Wikia is not accessible if you've made further modifications. Remove the custom ad blocker rule(s) and the page will load as expected.