You may upload a JPG or PNG image of the in-game examine window.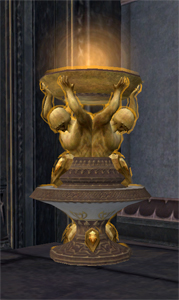 EverQuest II Item Information
Type: House Item

Altar of the Ancients

This item can be placed in any house type.

Grants the target the Blessing of the Ancients, improving experience gain, potency, ability modifier, experimentation success chance and primary attributes.
 
FABLED
NO-TRADE  NO-VALUE
Rent Status
Reduction
1000

Obtain: [How can I get one?] try LootDB or the linkback
\aITEM 882611233 -1921111674:Altar of the Ancients\/a \aITEM 882611233 -1921111674:Altar of the Ancients\/a
What does this information mean?
This items was offered only to those who purchased the Terrors of Thalumbra expansion before it was released (pre-orders).
Unlike teleport items that can be used by anyone, only those who own the preorder Version of this item can get the buff it offers.
Buff Details
Edit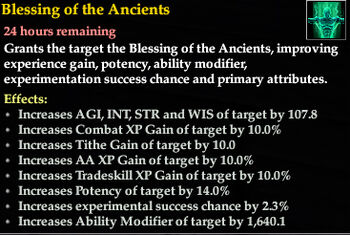 EQ2i credits this article at Census for the info in this article.
the last update on Census for this item was:
Thu, 13 Jul 2017 14:49:50 +0000
Ad blocker interference detected!
Wikia is a free-to-use site that makes money from advertising. We have a modified experience for viewers using ad blockers

Wikia is not accessible if you've made further modifications. Remove the custom ad blocker rule(s) and the page will load as expected.